Shiatsu is an ancient Japanese healing art which re balances the body's energy system while it reduces tension, reinvigorates your body, and supports your overall health. The b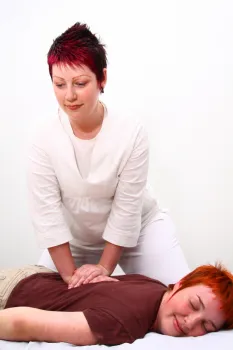 ody's vital energy, called chi flows through channels in the body called Meridians. Shiatsu uses deep and sensitive touch to both diagnose and treat many conditions of ill-health. By applying pressure at specific points along the Meridians we can even out the flow of Chi through the body and improve the health and functioning of that meridians' associated organ systems. Traditional Chinese Medicine views all illness as an imbalance in the energy system, while injuries such as broken bones create an acute energy imbalance which can be redressed by shiatsu for a faster and less painful healing.
What does shiatsu feel like?
The shiatsu therapist applies pressure using his or her fingers, thumbs, and/or palms in a continuous rhythmic sequence. The pressure feels more localized, because unlike other types of massage, the finger pads are used to apply pressure for most of the treatment instead of the entire palm. Certain pressure points may feel tender, which some people describe it as "good pain." If you feel any discomfort or pain during the treatment, tell your therapist and he or she will adjust the pressure so that it is comfortable to you.
How is shiatsu different from other massage techniques?
Shiatsu works directly with the sympathetic nervous system via the tsubos (points' along the meridians). By applying pressure to these points deeper levels of the body can be reached. The pressure on the particular points affects specific organs and their functions.
Whatshould I expect from my first visit?
The treatment is done on a low massage table or on the floor. Unlike other forms of massage, with shiatsu no massage oil or lotion is applied, so you remain fully clothed during the treatment. You may be asked to bring comfortable clothing to wear. It is best to wear loose fitting pants and a short/long sleeve T-shirt.

Benefits of shiatsu

Shiatsu can help alleviate the pain associated with a wide range of conditions. It can also assist an individual with their self-development and self-healing; balancing the underlying causes of a condition; taking into account the functioning of the physical and psychological; promoting health and strengthening the body's own healing abilities.

improves health, vitality and stamina
improves breathing, posture and circulation
restores and balances energy
eases tension and stiffness
relaxes mind and body
Shiatsu is a deeply relaxing experience and regular shiatsu sessions help to prevent the build up of stress in our daily lives. Following a Shiatsu treatment, the individual may have feelings of increased vitality and relaxation.

Precautions

Shiatsu is not recommended for certain people
infectious skin disease, rash, or open wounds
immediately after surgery
immediately after chemotherapy or radiation, unless recommended by your doctor
people with osteoporosis should consult their doctor before having shiatsu
Those prone to blood clots. There is a risk of blood clots being dislodged. If you have heart disease, check with your doctor before having shiatsu
Pregnant women should check with their doctor first if they are considering getting any type of massage or bodywork. Shiatsu in pregnant women should be done by massage therapists who are certified in pregnancy massage.
Additional tips
1. Refrain from eating a heavy meal before your session, it is best to not have eaten anything one hour prior to your session
2. If it's your first time at our practice, arrive at least 10 minutes early to complete the necessary forms. Otherwise, arrive 5 minutes early so you can have a few minutes to rest and relax before starting the shiatsu
3. Drink plenty of water after the treatment
4. Wear loose, comfortable clothing during your session


To get the most benefit from the treatment it is recommended not to engage in conversation with the practitioner. Nevertheless, feel free to express any concerns or sensations you happen to experience during the session. Your feedback is always appreciated and informs the practitioner of the progress of the therapy.